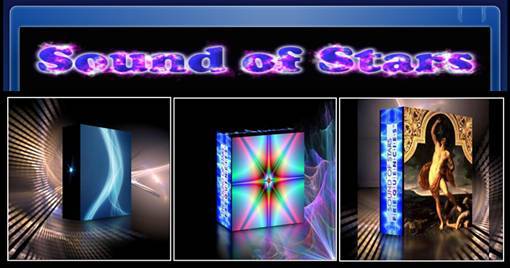 CAN FREQUENCIES RECTIFY OR REMEDIATE
RADIATION AND RADIOACTIVITY?
YES, BUT HERE IS WHAT YOU NEED TO KNOW ;
( AND WHAT SHOULD BE AVOIDED)
NOTE:
ARCHIVED MESSAGES ABOUT: ACTUAL LINKS TO RADIATION REMEDIATION VIA FREQUENCY

CAN BE FOUND AT THE YAHOOGROUP LINKS SHOWN IN

THE LATER PART OF THIS DOCUMENT - SCROLL DOWN.
One of our members asks ;
-----------------------------------------
QUESTION:
"Doc any thoughts about this?"
http://www.youtube.com/watch?v=WS_7kjj3X6A&feature=share
JAPAN - RADIATION PROTOCOL Cymatics.wmv
"A sound protocol --- 10 Cymatic clips --- to fend off the effects of
radiation. The full DVD and lecture-discussion is being presented in Osaka, May 18, "
------------------------------------------
ANSWER:
I hate to say it - no one likes being a kill joy, I dont, but no - this "method"

( other methods can and will) is not likely going to do much for people at least in so far as

radiation is concerned.

Dont get me wrong Im not saying that this sort of approach cant do anything, or that there

is absolutely no benefit here, but what ever effects are produced will be found in the end

to be at best marginal or below maginal for most people and the environment, in relation

to protecting them from radiation or neutralizing its effects.

There are a number of reasons for this, but in my opinion here are some of the more

important ones ;
In my opinion, these people dont really understand what they are doing, they are engaging

mostly in wishful thinking and a very surface level understanding of frequency related jargon

and notions, but they are hoping that their listening audience doesnt even know the jargon,

and thus they will come across as appearing to be 'knowledgeable' about frequency technology.
If you hunt down their actual source of understanding and where they are coming from you end

up finding out that they are mainly into metaphysical woo woo and new agey 'vibrations'.... for

example one of the 'frequencies' on their video is ;
"PRANA (Schuman Pulsation)"
and the video instructs you to hold this over your 'Solar Plexus', a reputed chakra area
When you hunt down their links you end up finding that these folks are actUally the following ;
http://www.cosolargy.org/
http://jamilian.org/
There's been a trend in the psuedo-scientific New Agey mumbo jumbo crowd of late, to

hijack scientific sounding terms and to blend it in with nonsensical word salad usually of

a mangled form of westernized, yuppified eastern religious roots origin.... the end goal is usually

to sell stuff, whether its seminars, events, products, services, that end up providing little

of value except perhaps as a very low grade transient type of entertainment at best
Case in point ;
Deepak Chopra Interview with Richard Dawkins
While Im no fan of either Dawkins or Chopra, and I realize many people think Dawkins can

come across as a jerk ( and I can see why ), the fact is that in this case he totally owns Chopra

and exposes some pretty commonly used bullshit mumbo jumbo used by the plastic shaman /

pop spiritual guru crowd.

( Note: I'm not intending to generically slam the entire New Age domain here, just the obvious

ignorant, dysfunctional, corrupt part)
Frequency technology is NOT well understood by the general public, and in

its application towards health, wellness, and the environment in the publc domain

of mainstream sciences is, at best in the infancy, fledgling state.

New age snake oil salesmen capitalize on this gap in the knowledge base by

hunting around for terms, phrases, concepts that they scavenge off the real

scientific pioneers that are on the fringe borders of new and alternative sciences

such as Priore, Papimi, Royal Rife, ( not to boost my ego, but yes people like

myself as well) and then often concocting absolutely delusionsal and downright

deceptive fabricated stories that are more focused on their own personally created

plasticized religious-spiritual beliefs and manic metaphysical imaginings - not

something you want to base your personal safety and well being on, in the

real world!

How can you normally spot these shysters?

Watch for when they start talking about how 'everything has a vibration',

and then they space out with widened eyes and start telling you about how

they are 'god', or that their 'angels' or whatever 'told' them THE frequency for

whatever.... usually these are dead give away signs of bullshit speaking to you in

the form of a nut case....

REAL frequency technology is a SCIENCE, disembodied entities not required!

I'm not saying that disembodied entities don't exist, or that they may even

inspire people at times to get great ideas that really work - but at some point

the individual still has to roll up their sleeves and do the actual work in an

effective and measurable manner, and most of these clowns never do this.

Frequency technology is a PRECISE science which tends to have a measurable

effect.

The same jokers who badly understand the principles of Wilhelm Reich's work

with orgone, and try to rip off his ideas and sell bogus products like most of the so

called 'orgonite' out there tend to be the same wack jobs that make a mess of

understanding frequency technology and who end up making the serious

researchers ( like myself ) and those who are really interested in this science,

look bad.
Most of these people don't even understand the simplest basics, for example ask them

simple questions, directly, like "what does ( 1 / unit length ) give you in relation to 'vibration'?
If they don't answer "frequency", then they don't know what they are talking about, they
are simply mindlessly parroting word salad they memorized from some cheap, badly written
pop new age book. Try asking them, " What IS frequency, anyways ?" If they don't know that
frequency is, (simply a RATE of motion), you've got a problem. IF they give you stupid blank stares
or if they give you very long convoluted descriptions and occasionaly insert terms like "feelings"
or "Buddha" or "Christ Consciousness" or "abundance" or cite "The Secret", lots - but don't
actually give you a simple explanation - then the botom line is they do not know WTF they
are talking about. Tell them to spend less time looking in the mirror, smoking crack, banging
on bongo drums, playing with crystals, chanting to their inner self god, smugly pontifcating
on all subjects they know nothing about, and tell them to spend more time picking up a text
book and getting up off their lazy asses to actually do the work and engage in real valid
experimentation.

If someone tells you they are the latest incarnation of 'Kokopelli', and or they

want to sell you orgonite, and or if they seem to be anything like this guy ;
My opinion is you are dealing with a dangerous clown, and my advice to you

is to run, NOT walk the other direction.

Personally, I would subjectively also suggest avoiding any materials put out

by groups like Zeitgeist, ELEVATE, Thrive, Awakeningasone or anything that

smells like this.
EXAMPLES OF VALID FREQUENCY TECHNOLOGIES DEVELOPED BY

LEGITIMATE RESEARCHERS ;
http://www.dnafrequencies.com/
http://www.rt66.com/~rifetech/
http://soundofstars.org/you.htm
EXAMPLES OF BOGUS, MOSTLY BULLSHIT CRAPOLA USING NEW AGEY

PSUEDO SCIENCE SOUNDING WORD SALAD CAN EASILY BE FOUND BY :

Simply typing in words, phrases like "Healing with frequencies" or "raise

your vibration"

You can just about count on 80 % of all the pages returned are crap, fitting

the profile mentioned above.

"Healing with frequencies" ;
http://www.google.com/#hl=en&sclient=psy-ab&q=healing+with+frequencies&pbx=1&oq=healing+with+frequencies&aq=f&aqi=g1g-v1g-b1&aql=&gs_sm=3&gs_upl=41457l44561l0l45370l24l24l0l0l0l0l455l8027l2-2.17.4l23l0&bav=on.2,or.r_gc.r_pw.r_qf.,cf.osb&fp=904a428fc28a535b&biw=1245&bih=825
"raise your vibration"
http://www.google.com/#pq=healing+with+frequencies&hl=en&gs_nf=1&cp=13&gs_id=70&xhr=t&q=raise+your+vibration&pf=p&sclient=psy-ab&pbx=1&oq=raise+your+vi&aq=0&aqi=g2g-s1g1&aql=&gs_sm=&gs_upl=&bav=on.2,or.r_gc.r_pw.r_qf.,cf.osb&fp=904a428fc28a535b&biw=1245&bih=825
I tend to have to deal with the whackos, it seems, more than other serious

frequency tech developers. My guess as to why this is, likely, is because unlike

the other rife investigators and related, I have also encompassed the area of

consciousness research, especially from an applied mathematics and natural

sciences perspective.

My work is entirely unique globally and it certainly differentiates me from most

other rife and similar researchers such as Dr Bare, Char Boehme, and Dr Lloyd.

However, since there are so many wagon jumpers in a dysfunctional cross

section of the new age crowd (usually the narcissistic ones on hedonistic vanity

trips) who "love" consciousness, they tend to often flock initally towards my work,

usually in the hopes that I will put my stamp of approval on their bizarre delusions

of grandeur and weird belief systems, and they tend to be more interested in having

me reinforce their distorted paradigms than in actually seriously reviewing,

understanding and then applying my work in a properly educated manner. When I

don't do this for them and when I insist that my work is valid, has merit and does

not require their personally customized reality paradigm to exist or function well

as it is, on its own – they tend to either lose interest rapidly or at that point change

their minds as to whether they thought my work was ever effective for them.

Obviously its again an issue of politics for them and not one of science.
One of my favourite quotes ;
"It is not because the truth is too difficult to see that we make mistakes... we

make mistakes because the easiest and most comfortable course for us is to seek

insight where it accords with our emotions - especially selfish ones."
Alexander Solzhenitsyn
Regarding Cymatics, this is an actual authentic science... I was studying it in depth two

decades ago when few had ever heard of it.... recently the mainstream has been starting to

examine it more and various new agey snake oil salesmen have latched onto it
because it 'looks neat' and it tends to impress those in the public who are ignorant of frequency

related technology in general, which are the majority of people... we were showing cymatic videos

on our website before most other people had ever heard of it... I cant count how many other

people selling new age crapola started to copy us by placing similiar materials on their own
websites to give their sham products, services a look and feel like they knew what they were

talking about and then attempting to link Jennys work on Cymatics to their stuff.... but thats what

they do, they jump on what ever new wagon comes along that serves their purpose in the moment....
My approach obviously is to roll up my sleeves and actually DO the work and then get REAL

results, which is what I have been doing for some time now
Following is a list of various email messages over time, that has occured between me and other

people about whether radiation can be dealt with effectively by frequency technology... I trust these

message threads will serve to answer the various questions you and others have on this issue ;
RADIATION REMEDIATION (methods) MESSAGE ARCHIVE ;

IF YOU CAN'T ACCESS THESE MESSAGES ;
Its because you are not a member, to become a member you can click here ;
http://www.soundofstars.org/DISCLAIMERf.htm
Various proofs of applied frequency sciences ;
http://health.groups.yahoo.com/group/sound_of_stars/message/15848
http://health.groups.yahoo.com/group/sound_of_stars/msearch?query=Joel+Sternheimer&submit=Search&charset=UTF-8
http://health.groups.yahoo.com/group/sound_of_stars/message/17015
RADIATION REMEDIATION (methods)

via FREQUENCY ( et al. ) RELATED LINKS ;
http://health.groups.yahoo.com/group/sound_of_stars/message/16035
http://health.groups.yahoo.com/group/sound_of_stars/message/15297
http://health.groups.yahoo.com/group/sound_of_stars/message/18134
http://health.groups.yahoo.com/group/sound_of_stars/message/17638
http://health.groups.yahoo.com/group/sound_of_stars/message/17617
http://health.groups.yahoo.com/group/sound_of_stars/message/15892
http://health.groups.yahoo.com/group/sound_of_stars/message/15865
http://health.groups.yahoo.com/group/sound_of_stars/message/15283
http://health.groups.yahoo.com/group/sound_of_stars/message/15277
http://health.groups.yahoo.com/group/sound_of_stars/message/15239
http://health.groups.yahoo.com/group/sound_of_stars/message/15159
http://health.groups.yahoo.com/group/sound_of_stars/message/15134
http://health.groups.yahoo.com/group/sound_of_stars/message/15007
http://health.groups.yahoo.com/group/sound_of_stars/message/14908
http://health.groups.yahoo.com/group/sound_of_stars/message/14895
http://health.groups.yahoo.com/group/sound_of_stars/message/14887
http://health.groups.yahoo.com/group/sound_of_stars/message/14886
http://health.groups.yahoo.com/group/sound_of_stars/message/14880
http://health.groups.yahoo.com/group/sound_of_stars/message/14718
video : SUPPRESSION OF RADIATION SHIELD

& FREE ENERGY TECH
http://health.groups.yahoo.com/group/sound_of_stars/message/15600
HUNDREDS MORE LINKS THAT ARE RELEVANT, HERE ;
http://health.groups.yahoo.com/group/sound_of_stars/msearch?AT=doc_starz%40yahoo.com&AM=contains&MT=radiation&MM=contains&pos=0&cnt=10
Much more related and detailed info separate and in addition to
the above exists in our archives, not posted here, but this constitutes

what I am able to share presently based on time constraints.
.....................
MORE INFO BELOW
.....................
.....................
.........................
SCROLL DOWN PAST THE FOLLOWING PROMOTIONAL SALE
.....................
.....................
.....................
.....................
.....................
.....................
THE 'BEST OF' COLLECTION not designed for ANTI-RADIATION purposes
.....................
.....................
.....................
.....................
.....................
.....................
YOU MUST READ & AGREE TO OUR DISCLAIMER PRIOR TO PURCHASE;
http://www.soundofstars.org/DISCLAIMERc.htm
_._,_.___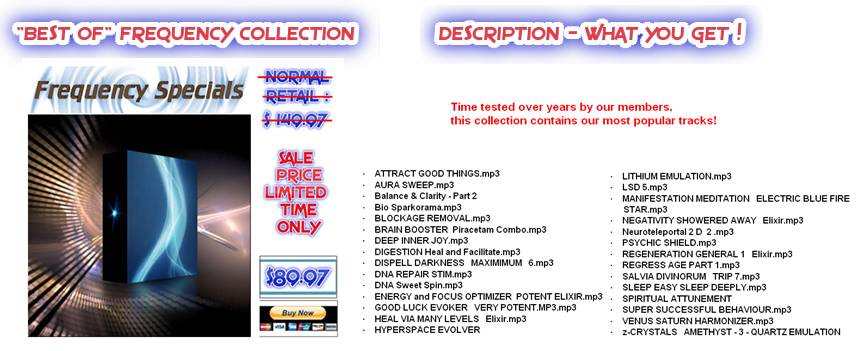 SOUND OF STARS - Unique Frequency Entrainment
Self Improvement for Body, Mind & Emotions
THE SNOW LOTUS FLOWER FREQUENCY
http://soundofstars.org/snowlotus.htm
SELF ACTUALIZATION
http://www.soundofstars.org/you.htm
WHAT ARE PEOPLE SAYING?
http://www.soundofstars.org/comments.htm
CATALOG
http://www.soundofstars.org/DISCLAIMERc.htm
WHERE IS THE PROOF ?
http://soundofstars.org/whereistheproof.htm

..................................................................
HOW IS MY WORK DIFFERENT FROM THE

PSUEDO-SCIENTIFIC NEW AGEY

"SUPPOSED" SOUND 'THERAPISTS'?
Here is a partial excerpt from a recent post ;
http://health.groups.yahoo.com/group/sound_of_stars/message/18684
"You cant do what I do, you know it, I know it - and you know I know it

Your methods next to mine are mostly old, repackaged technology of things

like subliminals, hypnosis, binaural beats, gongs, simple tones, variations

like Solfeggio etc...

While I give fair credit to those who have developed such things and who get benefit

from these and I ( unlike you) recognize their (far more limited ) results, efforts and

approach - Im not about to bend over for you and let you take advantage of me

You can ignore me, you can keep pushing your products on your followers, you can

keep getting poorer results on many many areas than I do…

But Im not going away, and we are growing way faster than you are

Think Im kidding?

Im not going to name names, but look up some of the the most famous

"sound healers" of the related associations, compare their youtube channel with

mine, compare their website content with mine.... it should be pretty obvious who is

short on substance and content but big on hype and word salad, and it aint me....

it should also be obvious whos grown more in a vastly shorter period of time.... we've

only been on youtube for about a year and we have well over over FIVE to SIX times

the subscribers, that their best has - and they've been on since 2008 !

The fact is, whether they care to hear it or not, whether they care to acknowledge it

or not there ISNT anyone in their associations for "Sound Healing" that can do what I do

And Im not in their association(s), and I havent followed the path they've taken...

so how the heck is it that I have accomplished what their best and brightest couldnt?
That must be awfully embarrassing for them I would think... no wonder they want to ignore

me altogether, how bad for business would that be? What sucks of course is that

it SHOULDNT BE about who makes more cash, it should be about really helping people

and focusing on what actually gets the best results....

So why is this? And whats going on here?

My personal opinion is that its got little to do with the merit of capability and mostly

to do with the politics of profit....

So final heads up, to those who want to profit from me and my efforts with out giving

any thing of any kind in return, it aint gonna happen

And while the celebrities, gurus, and the 'special people' in the sound therapy arena

that tend to get the media spot light continue to feed at the public trough, here is a

heads up to you from your friendly neighborhood

Spider Man ;

http://www.youtube.com/watch?v=i3F2y2hRP4o

The World is in a really tough spot right now... globally, the people are screwed...

many of whom are starting to wake up to just how bad it currently is and just how much

worse its going to get... just how long exactly do you think you can keep spewing nice

sounding word salad and pretending like everything is ok and keep raking in the cash from

desperate people who are hoping you have all the answers to their problems?
How long do you think its going to take, now, before your fingers get pried off their wallets

forcibly by them when they realize that while you have 'some' small part of the picture to health

and wellness that you are no where near capable of being able to really effect enough

meaningful change with what you are peddling?
I think there are going to be a lot of really really pissed off people soon, people who

were your doe eyed customers, that paid for your back yard barbecues and volvos.
How much longer do you think its going to be for them to realize that theyve been

hoping to get results from your weak forms of sound therapy and as and when the

SHTF they realize it was not much more than a fluffy temporary feel good quick fix

that evaporates under pressure?

I suspect, not very long at all, and I think you know it..
I also think that you'd rather expire than to ever give me fair recognition or credit,

but thats ok... because I already know that I HAVE put in the requisite time, effort

and energy to really understand frequency technology that you mainly pretend to

have done and Im quite confident that unlike your lovely mantras and tuning forks,

the technology I have developed actually CAN cut it and deliver in ways you cant
- thats gotta be a bit disconcerting to you, I would think, eh?

Its just a matter of time, and our people not only can tell the difference but they are

ALSO comitted to really educating themselves and empowering themselves,

while many of your folks sit around all gap eyed, beating bongo drums, chanting to

GAIA, in between their trips to the spa and frozen yogurt stands on their tropical

retreats.
Thats gonna be pretty tough for them to sustain shortly, with the global trends going

the way they are, hey?

What will you tell them then?
Will you prescribe them with a single 528 Hz tone that you lazily recorded easily on

your super expensive synthesizer, pat them on the head, give them a patronizing

platitude and then send them on their way?

When things get really bad, and they will, I am 100 % certain that a large number of

your 'followers' are going to literally freak out, melt down and piss their pants...

while our members and supporters will roll up their sleeves, get busy and

SURVIVE and THRIVE.....

So.... bottom line, no more fooling around, dont try to take advantage of our forum

for your selfish indulgent profiteering unless you are willing to behave decently

and RECIPROCATE

Nuff said
Doc Starz

Over and Out"