SILENT DELIVERY METHODS & DEVICES
– THIS PAGE UNDER CONSTRUCTION -
<![if !vml]>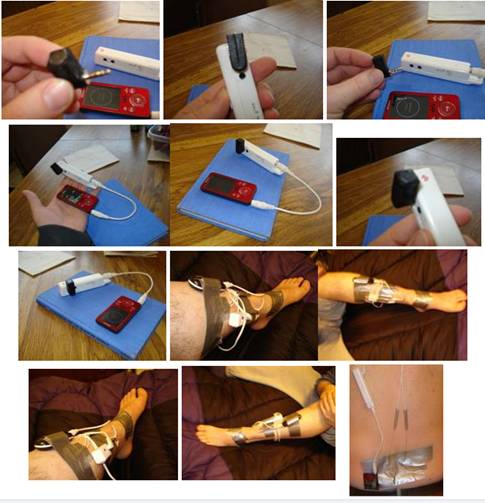 <![endif]>
THE DISCLAIMER LINK ON THIS PAGE APPLIES TO ALL FOLLOWING CONTENT;
http://soundofstars.org/DISCLAIMERs.htm
Currently our global members use the frequencies both via audio playback as well as via various experimental 'Silent Delivery' devices. 
This page will be updated over time
WHY USE SILENT DELIVERY?
Often users want to experience the benefit of having their own, invisible, silent frequency 'bubble'. Imagine being able to walk around or sit anywhere and privately enjoy experimenting with your frequencies!
At work, play, the gym, shopping…. Where ever….
( We have a very large number of reports issued by members in our online groups describing their satisfaction with these devices and methods)
NOTE: Currently the 'Silent Delivery' aspect of Sound of Stars is purely experimental, and as of this article we have not yet settled on an 'official' solution for silent delivery methods, devices.  We do not currently yet offer directly these devices nor do we advise on their usage, except however only to correspond with members conducting personal interest experiments with the purpose of information sharing only.
All silent delivery devices are currently provided by third parties not in business relation to 'Sound of Stars' or Donald Adams.
Any information in this section is purely for your convenience of reference.
This page does not yet include the entirety of all the various methods, devices we have been experimenting with but it should serve as a good general reference for the beginning experimenter.
FOLLOWING ARE VARIOUS PHOTOS, LINKS AND RESOURCES FOR YOUR CONVENIENCE AND REFERENCE
* NOTE: The supplier who provides the SLB and the 'cable' is in New Zealand,
Users interested in these items should be advised that products can take
As much as a month to arrive to North America.
( NOTE: DO NOT USE THE SQUARING AMPLIFIER!)
ACCESS OUR ONLINE PHOTO GALLERY
http://groups.yahoo.com/group/the_sound_of_stars/photos/album/0/list
MEMBERS ONLY
<![if !vml]>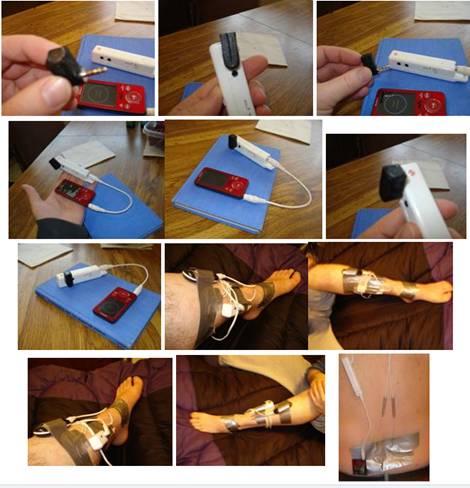 <![endif]>
CONDUCTIVE SOCKS & GARMENTS
 

<![if !vml]><![endif]>
http://www.etrode.com/index.cfm/product/8628/ultimate-conductive-sock.cfm
CONDUCTIVE GARMENTS
http://www.judahmanufacturing.com/conductivegarments.asp
http://www.judahmanufacturing.com/electrodesleads.asp
CABLE TO ATTACH ELECTRODES
TO IPOD, OR MEDIA PLAYERS
<![if !vml]>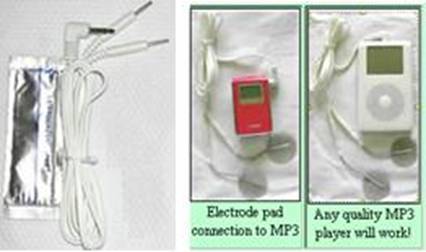 <![endif]>
Silent Delivery' Electrode Connection Packages:
Basic Electrode Connection for SSF Experimentation
1 only lead connector with mini jack-plug for MP3 connection & pad connections...Plus! 1 set-(2 only) x 3cm TENS re-usable Super Electrodes with knitted stainless steel mesh for greater conductivity & preservation of battery life.
CLICK TO ORDER FROM THE THIRD PART SUPPLIER
'
THE " SLB " SILENT LISTENING BROADCAST ANTENNA
<![if !vml]>

<![endif]>
 An elegantly simple & economical solution for broadcasting - relaxing or energising music frequencies  up to a 40', (12m) radius using the home stereo, PC & lap-top. MP3 Player!   (Wonderfully portable when used with an MP3 Player, but a lesser personal operational radius of 3' (1m) The 'Silent Listening' broadcast antenna has an effective operating radius of up to 6m when plugged directly into the earphone jack of a CD player or line-out plug if provided on your player.
Is effective for use in the Home, Office, or Workplace with a selected Sound Vibrational Audio CD.
<![if !vml]>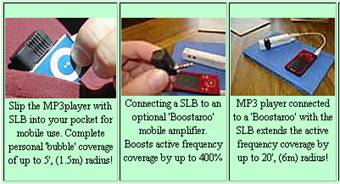 <![endif]>
THE PORTABLE AUDIO AMP
MEMBERS USE THIS WITH THE SLB OR ELECTRODES AND THEIR IPOD OR BATTERY OPERATED AUDIO DEVICES
CLICK THE BELOW IMAGE
<![if !vml]>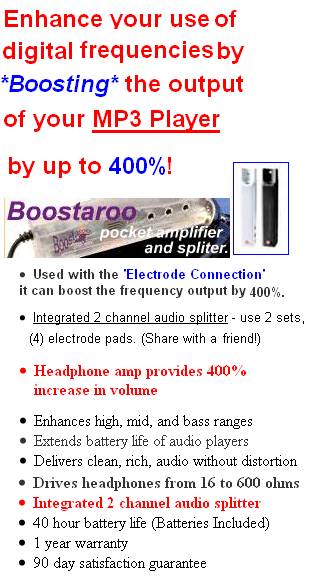 <![endif]>
EXPERIMENTAL SILENT DEVICES
BY J.S. SANGSTA
"CPU ELECTRODES" – by Sangsta
<![if !vml]><![endif]>
<![if !vml]>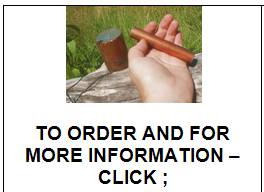 <![endif]>
<![if !vml]>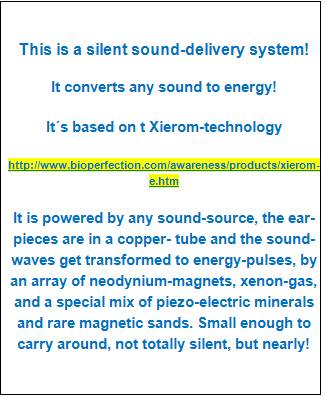 <![endif]>
ELECTRODE NOTES:
DO NOT USE ELECTRODES IF YOU DO NOT
KNOW EXACTLY WHAT YOU ARE DOING!
Our users educate themselves BEFORE they begin experimentation.  Full responsibility
Must be taken by you for your actions.  You may find it helpful to inquire and ask for feedback on questions you have in our online forums from our other members, preferably members who ARE allopathic medical doctors who are qualified to answer these kinds of questions.  Our members are known to NOT apply electrodes on or above the neck, nor over or in proximity to the head, heart region.  They take care when applying it in proximity to any organs, etc. They never use electrodes with our frequencies on output devices that are not battery operated, i.e. they do NOT use our frequencies with electrodes coming from a device plugged into a wall power socket.  When using battery driven devices, only devices of 9 volts or lower are ever used typically.
Regarding where to get your electrodes, most members find local 'medical rehad equipment supply' shops to be the best sources.
While the New Zealand supplier 'Good Vibrations', who carries the SLB and cable, is very reliable historically in regards to shipping and customer service for these specific items, we do NOT recommend his line of electrodes as they appear to be of inferior quality and wear out very fast, for electrode supplies we suggest you seek elsewhere.
How to get the most mileage out of your electrodes.
<![if !supportLists]>· <![endif]>Keep skin clean and dry from lotion
<![if !supportLists]>· <![endif]>Always lift electrode from edge, not from lead wire
<![if !supportLists]>· <![endif]>Always replace electrodes to the "ON" side of the storage liner.
<![if !supportLists]>· <![endif]>Always store and seal electrodes in the original packaging in a
cool place.
<![if !supportLists]>· <![endif]>Never submerge electrodes
<![if !supportLists]>· <![endif]>Re-hydrate gel with a drop of water
<![if !supportLists]>· <![endif]>Using hot or cold packs for a long period of time can lead to
adhesive separation
<![if !supportLists]>· <![endif]>Only use electrode on one person
With regular tender loving care your electrodes will last and last.
However, when they show signs of deterioration, please replace
them for optimal performance. Electrodes are disposable.