<![if !vml]>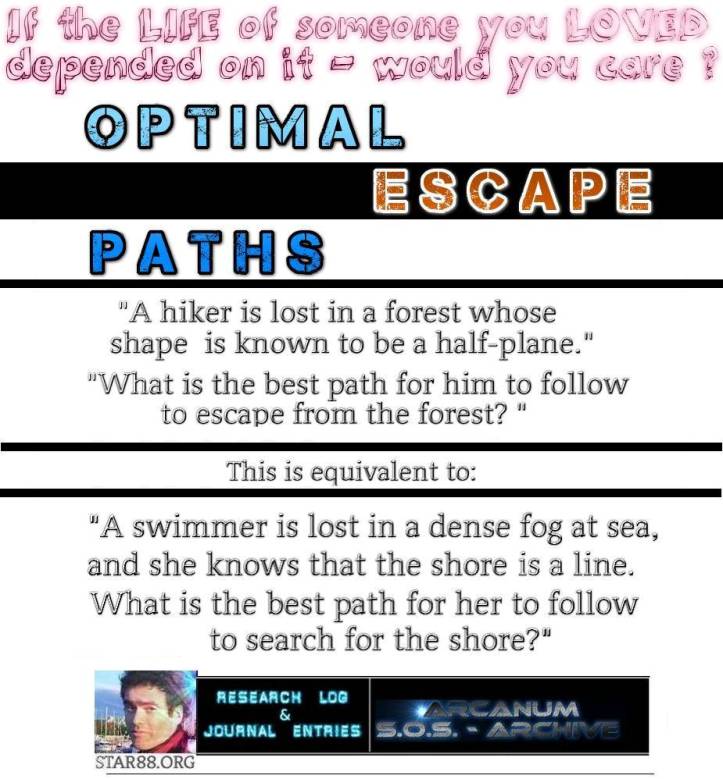 <![endif]>
<![if !supportEmptyParas]> <![endif]>
Subject: [ S.O.S. : --> ] About Your Escape                       To: sound_of_stars@yahoogroups.com
Received: Thursday, May 23, 2013, 6:58 AM
OPTIMAL ESCAPE PATHS - {DETERMINING}               Re: EXTREME IMPORTANCE - ALL MEMBERS
Full message at link ; http://health.groups.yahoo.com/group/sound_of_stars/message/20056
<![if !supportEmptyParas]> <![endif]>
Subject: [ S.O.S. : --> ] About Your Escape
To: sound_of_stars@yahoogroups.com
Received: Thursday, May 23, 2013, 6:58 AM
OPTIMAL ESCAPE PATHS - {DETERMINING}
Re: EXTREME IMPORTANCE - ALL MEMBERS
Full message at link ; http://health.groups.yahoo.com/group/sound_of_stars/message/20056
<![if !supportEmptyParas]> <![endif]>
 Partial excerpts below  ;   ...."Here  are some comments from my colleague ;
"Did you know XXXX was attacked by US academe, and he had to get his work published elsewhere,
and the French at  inria helped him."
     And ;
     "....check out XXXX XXXXX's  mathematical constants--there's mention of a higher
 dimensional Feigenbaum like bifurcation accelerator constant  at something like 29.57 not far above
29.342......."      Now, when I tried to find some of  XXXXX's work I found a number of routes had been
blocked off, I mentioned this to my colleage and he said ;
     "Your access experience may reflect  the difficulty. We are in a race with time and a war on
 truth and good information. Try some other keywords, let me  know if you need more aid. "
<![if !supportEmptyParas]> <![endif]>
     My associate then forwarded quotes to me posted by XXXXX ;
<![if !supportEmptyParas]> <![endif]>
     * In October 2002, a former employer  demanded that this website be shut down, and I had no
choice  but to comply (draft notes here & here). I am grateful  to Cambridge University Press and to
INRIA Rocquencourt for  patiently seeing me through a difficult time (up to June  2003).
     So, what sort of employer would try to  shut XXXXX down from simply posting math and science
papers to the internet?
<![if !supportEmptyParas]> <![endif]>
<![if !supportEmptyParas]> <![endif]>
<![if !supportEmptyParas]> <![endif]>
<![if !supportEmptyParas]> <![endif]>
<![if !supportEmptyParas]> <![endif]>
<![if !supportEmptyParas]> <![endif]>